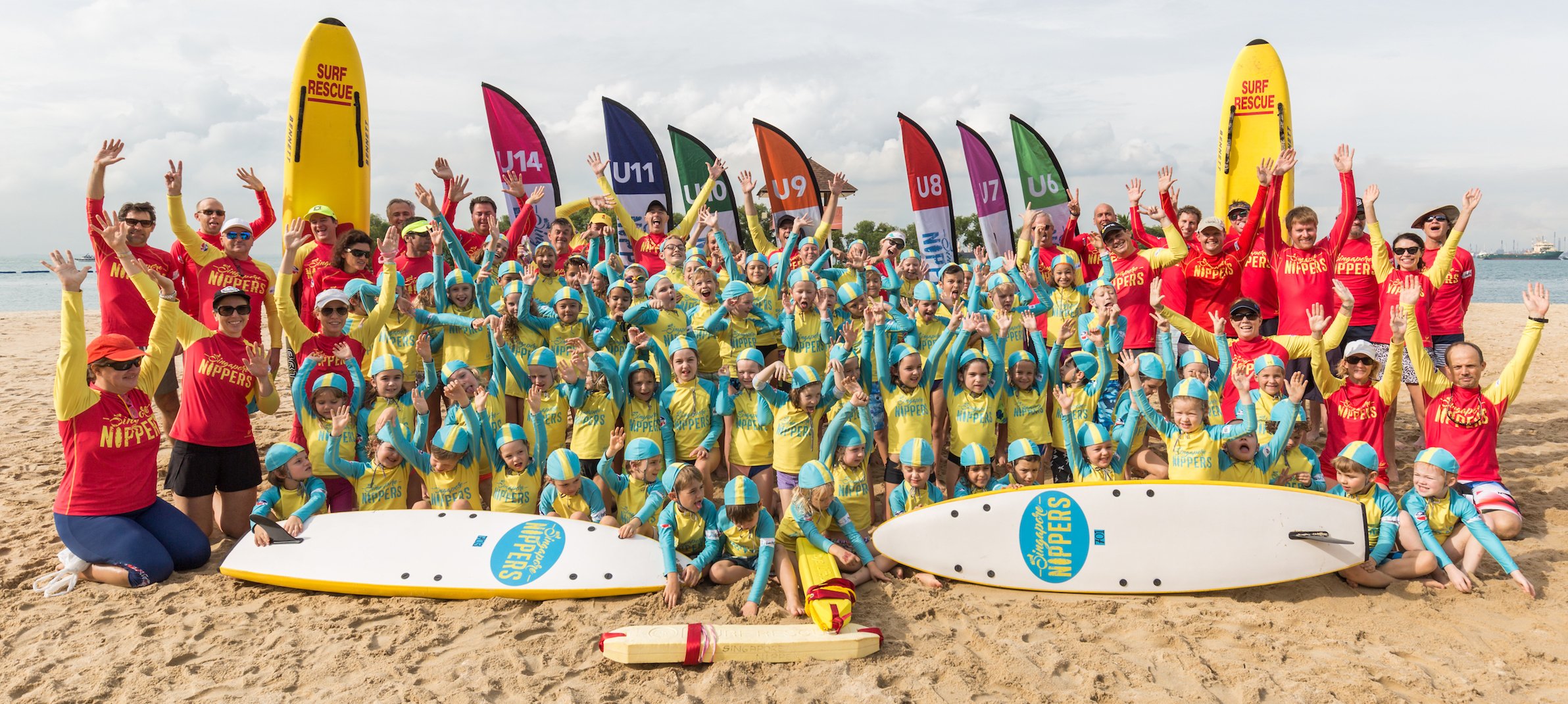 Please Note: The ANZA Nippers 2020 season will not resume due to COVID-19 phase two restrictions, which have also recently included beach access limits. We look forward to welcoming our ANZA Singapore Nippers back in March 2021. Please watch this page for further updates.
ANZA Singapore Nippers is a not-for-profit volunteer group where children from 5-13 years of age can learn beach and ocean awareness through fun activities, and connect with the great outdoors.
Sessions comprise typical Nippers events such as flags, wades, sprints, relays, run-swim-run, iron person, and board paddles. We also share knowledge and practice rescues, first aid and CPR. In addition to learning core Nipper skills, we mix up the format by reinventing these events in different ways, and adding in the odd game of tug-of-war and dodge ball. It's always a highlight when we roll out equipment like our magic carpet and giant slip'n'slide too.
Through all of this, we aim to promote confidence, sportsmanship, strength, speed, problem-solving, teamwork, safety, and respect for the environment. While we nurture awareness for our natural environment, we nurture awareness of others. While we build strength, we build strength of character.
Like a sausage roll and sauce, Nippers is a quintessential Australian activity that we want to share with families of all nationalities. We welcome parents and participants from any background to become mini lifesavers and part of our community.
THIS IS NOT A DROP-OFF ACTIVITY – Parents must remain on the beach with their children for the duration of the session and help out as required.
WE DO NOT TEACH CHILDREN HOW TO SWIM – It is expected that you register your children only if they can swim independently and meet swim assessment criteria.
To participate in ANZA Singapore Nippers families must be current ANZA Members.Click to Join ANZA.
CREATING A COMMUNITY THROUGH SURF AWARENESS
Contact
For all enquiries please contact  info@anza.org.sg
You can also find us on our Facebook page.
Sponsored by