Surf Lifesaving in Sentosa
Nippers is a quintessential Australian and New Zealand beach activity for children and teens to have fun and learn surf awareness and safety at the beach. ANZA Singapore Nippers offers kids aged between 5-13 a chance to participate in surf lifesaving activities in Singapore, and  enjoy the beach in a safe environment.
Sessions are held each Sunday from 8.45-10.30am at Palawan Beach, Sentosa and are run by a wonderful group of parent volunteers. We have two seasons: March to June, and September to December each year.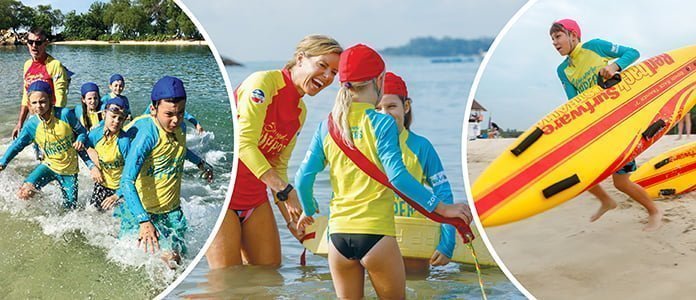 What to expect at ANZA Nippers
Looking for watersports activities in Singapore? Nippers Sessions include board paddles, swims, wades, flags, relays, and beach games. Nippers also aims to teach participants about ocean conservation, first aid/CPR, and rescue practices. We also offer parent social nights, fun events, group day trips, and a special end of year Presentation Day
We welcome parents and participants from any background to become mini lifesavers and part of our community.
** THIS IS NOT A DROP-OFF ACTIVITY – Parents must remain on the beach with their children for the duration of the session and help as required.
** WE DO NOT TEACH CHILDREN HOW TO SWIM – It is expected that you register your children only if they can swim independently and meet swim assessment criteria.
You can also find us on our Facebook page.
Registration is only available to ANZA members. Click here to Join ANZA!
Registration for the 2022 Season is full – we will reopen a waitlist in early 2023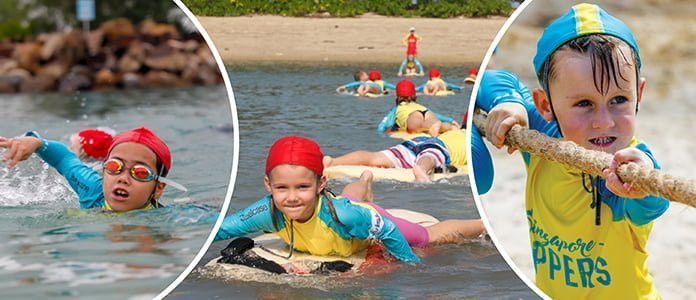 Testimonials
"I love going to the beach and the coaches make the sessions lots of fun. It is a good way of making new friends." – Georgina (U8)
"I have adventures at Nippers, and it feels like fun and games while we are learning lifesaving skills. I love that my parents are running it and it's easy to make friends." – Trinity (U12)
"I love watching their progress, improving their lifesaving skills, and best of all the camaraderie as they build friendship amongst themselves and with us as coaches." – Silvia (U12 co-age manager)
Sponsored by