ANZA Soccer – information re external leagues we participate in
ANZA Soccer Competition Teams represent ANZA Soccer in the JSSL Singapore National Youth Leagues, playing on average three out of four Sundays (Division 1) or every second Sunday (Division 2 and below). The JSSL League 2022 Season 1 starts on 11th of September. Season 1 runs from September to November 2022 and Season 2 from January to May 2023.
For B10 – B16 the top teams in each age group have been invited to play in the inaugural Youth Champions League 2022/23 instead, organised by Lion City Sailors.
B16 ANZA Socceroos will participate in the U16 Youth Champions League.
B13 will be playing a play-off match on August 27 to earn a place in the U13 league.
Information re the Youth Champions League will become available around the start of our Pre-Season. At this moment we only have limited information.
Going forward there will be a promotion/relegation arrangement between this new league and Division 1 of the JSSL League, half-way the season and at the end of the season.
We may also later register (a) team(s) in the ESPZEN J League, details to be advised.
Important links:
Competition Teams Weekday Training Schedule*
Season dates Saturday Club & Competition
Info on Youth Champions League [TO FOLLOW MID AUGUST]
* Note that B13 & G17 (now Tuesday) and B5, B6, B7, B8 & B9 (now Wednesday) will train on a different weekday than last season. These changes take effect only after the pre-season sessions, ie from August 29.
JSSL Singapore National Leagues
Age groups for JSSL Leagues are across 1 full birth year, except for Boys 16 and all the Girls Leagues, which will stay with 2 birth years. In January 2023 all age groups move one year up. A few changes compared with the April – June 2022 season:
B6s, no keeping of scores, tables or results
G14 Div 1 have moved to 7v7
11-aside matches will have Linesmen / Assistant Referees
For onsite player registration a Digital (Photo) ID will be allowed
Match day player stamps (age, division) are being reintroduced
Top Goal Scorers added to JSSL League website
fitness will be key!!:

JSSL B14 & B16 11-aside: 2x 35 minutes; full / large pitch
Youth Champions League B16: 11-aside 2x 40 minutes; full / large pitch
Hereafter an overview for Season 1 starting September 11, accurate based on JSSL communication as of July 7, 2022, which is still subject to change.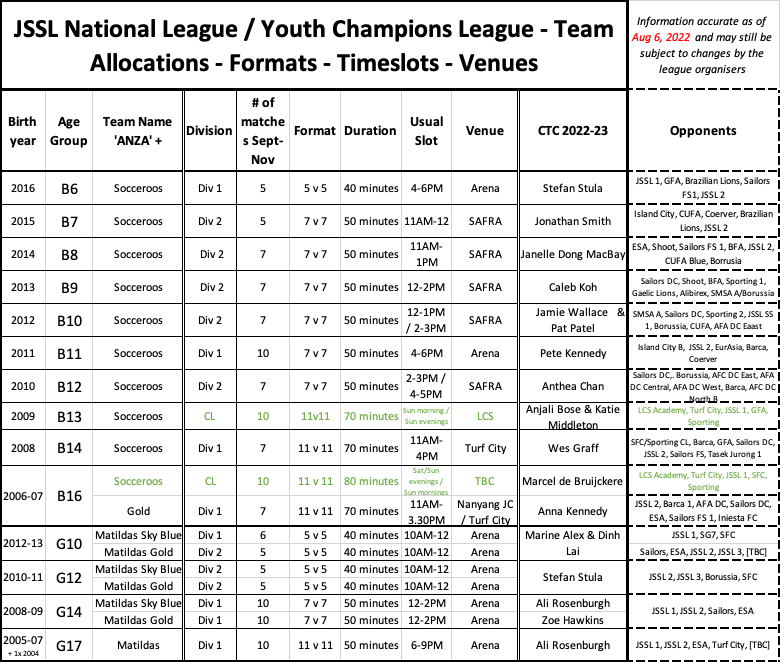 ANZA Soccer Competition Teams Coordinators